Police brutality
, Police misconduct or
excessive force
is described as inappropriate or illegal conduct by law enforcement officers in their official capacity. In some cases, it is a civil rights violation under federal law or the United States Constitution. Unfortunately,
police brutality claims
are far too common. We cannot bring back the life or health of our community members who have been
victimized
by
Excessive Police Force
, those who have suffered the loss of a loved one or have devastating catastrophic injuries, but at the very least, we can
bring justice, dignity,
and the respect they deserve along with quality long term health care. Law enforcement officers include police officers, sheriffs, deputies, or any federal
agents such as the FBI and DEA.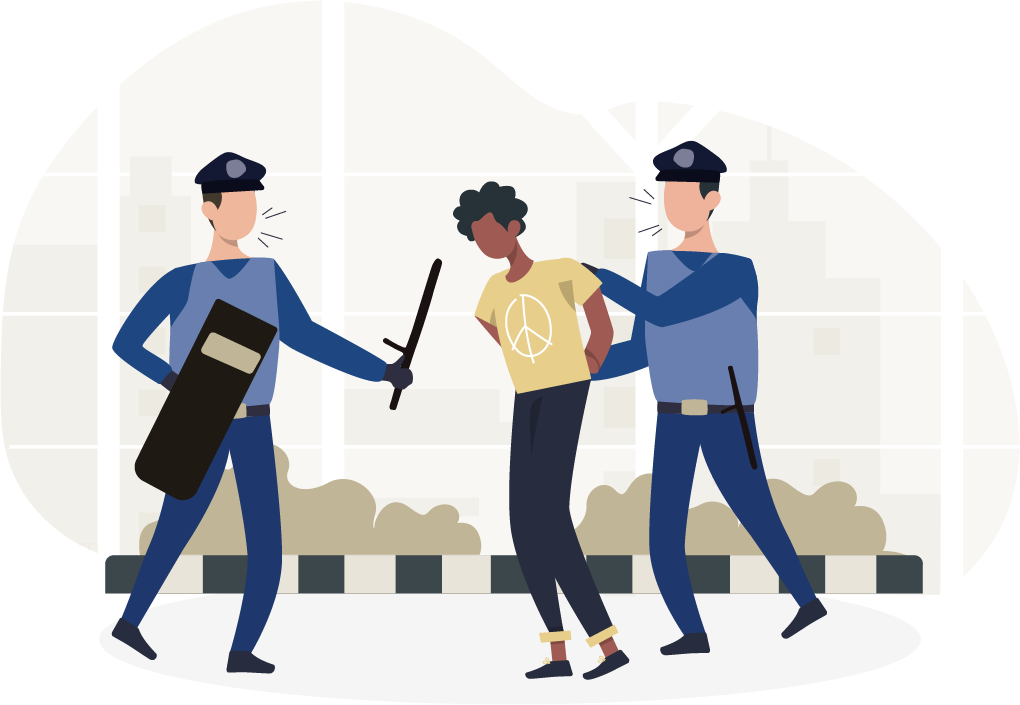 When you Might Need Police Brutality Lawyers?
At our law firm we have seen many victims of police brutality who have lost loved ones, been victims of excessive use of force or false arrests among many others.
It´s likely that you´ve been a victim of some of these police abuses, for this reason we want to explain why in Carrazco Law we are specialists as police brutality lawyers. Throughout our experience we have seen how victims have regained their confidence in justice.
Our police brutality attorneys have defended victims of all races in a wide variety of different cases because police brutality is a broad spectrum of possible abuses. At the firm, we know that it is not easy to bring a lawsuit against the police because they are often the ones who hide the facts to protect their own, for this and other reasons it´s necessary that you go to specialized police brutality lawyers.
At Carrazco Law we are here to bring justice to your case. Our lawyers for police brutality defend victims whose rights have been violated. Our main objective is to seek justice for victims of police misconduct and civil rights violations.
Most Common Police Brutality Cases​
As we discussed above, police misconduct can occur in many ways some common examples of what type of behavior would fall under the umbrella of police brutality or misconduct  including the following:

Victims of excessive force by a police office.

Victims of a police shooting or who have lost a loved one as a result of it.

Victims who have been victims of police brutality, for example while being arrested for committing a crime.

Victims who were subjected to an Unnecessary force

Victims to whom an unjustified force was applied.

The officer arrests a person despite not having a warrant or probable cause for a crime.
Excessive use of force claims garner publicity because they are often outrageous or involve serious injuries or death. These types of claims often involved sexual assault by a police officer, police brutality, or unjustified police shooting against a person. Whether the amount of force an officer uses is reasonable depends on the case's facts and circumstances.
How We Deal with Legal Proceedings in Police Abuse Cases​
TIME IS OF THE ESSENCE IN ALL CIVIL RIGHTS CASES
Working on IT
When Police violates a person's Civil rights we immediately begin working on the case after our offices are retained.
A team that cares for you
Our lawyers continuously ensures all files are up to date and our team is on any new developments, issues, questions or concerns the victim, their families, or opposing parties may have.
Cautious Decisions
We get things done in a timely fashion, all the while making sure it is done right.
Empathetic lawyers
We recognize that these are tough times for the affected families and treat our clients with empathy and respect.
We´re Specialists in Police Brutality Cases
Knowing your rights
is an essential part of protecting yourself. If you or a loved one has been a
victim of police brutality
in California, you only have a
limited time
to file your claim. We encourage you to discuss your case with our experienced
police brutality attorneys
. Courts will not look at the police officer's motivations or intentions. They will focus on whether the
police officer
used a reasonable
amount of force
. Even if an officer had good intentions but used unjustifiable and
unreasonable force
against the victim, the victim can win a case against that police officer.
Contact us
today to schedule your
free initial consultation
to learn how we will
fight for your right
to compensation and the justice you deserve.
Civil Rights

---

Personal Injury

---

Workers' Compensation

---
100+ Years of combined Civil Rights and Workers' Compensation legal experience