The truck accident law firm at Carrazco Law provides a free consultation to review your case while keeping your confidential or sensitive information private. We determine fault, negotiate with insurance carriers, file a lawsuit, and represent you in court, at no up-front cost to you.
If you need a truck accident lawyer, at Carrazco Law we work on a contingency fee basis, which means that when our law firm accepts your case and establishes an attorney-client relationship, we do not get paid until you receive compensation.
If you were injured in a commercial truck accident, speak with Carrazco Law today. Call (800) 541-3244 or use our short online form to review your options with an attorney for free.
Examples of Commercial Trucks
Big rigs, tractor-trailers, 18-wheelers — By any name, these types of vehicles are very often deadly when cars, motorcycles or any small vehicles collide with them.
Delivery trucks: FedEx, UPS, Walmart, DHL, Amazon, Grubhub, Doordash, Uber eats, Postmates, Instacart, and any other delivery trucks
Garbage trucks, street cleaning trucks, utility vans
City Buses, School Buses, Carpool Vans, Military vehicles
Ambulances, Police cars, Government or City Vehicles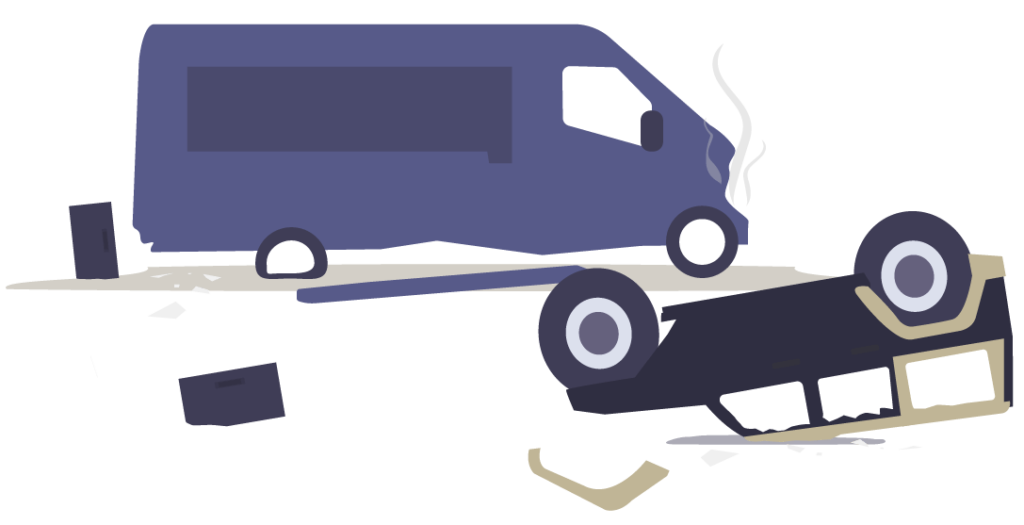 Over-the-road trucks come barreling at high speeds through California Highways Interstate 5, I-405, I-710 etc desperate to make good time. Local trucks cram the smaller streets, pulling into traffic, often unable to see you in their mirrors.
In a match between a large semi truck and anything else — car, cycle or pedestrian — the truck will usually win. When you are injured in a truck accident, you have to prove the truck was in the wrong if you are to obtain compensation for medical costs, time lost from work, and the pain and misery of physical therapy.
Why You Should Contact Carrazco Law as Soon as Possible

The first step you should take after an accident is to obtain the necessary emergency medical attention and contact the authorities so that there is an official report of the accident.
After that, you will need a professional who specializes in truck accident cases. Carrazco Law is a law firm specialized in truck accident cases. We can make available a truck accident lawyer to help you with the following:
Communicate and Negotiate on Your Behalf
Soon after the event, the other parties' insurance adjusters will attempt to contact you and ask you to speak officially about the accident. They will be ready to use anything you say to devalue or deny your claim, and may even try to talk you out of retaining your truck accident lawyer – all the more reason to have an experienced legal representative on your side.
Determine Cause and Legal Liability

Identifying and proving legal liability may require an in-depth investigation into the circumstances of the accident. Your lawyer will begin by examining the basic facts in the police report, and then dig deeper to uncover anything that can add value to your claim.
Strong evidence is a key factor in your commercial truck accident case.
Causes of Commercial Truck Accidents

Commercial truck accidents can happen for many reasons:
A company vehicle may have been improperly or poorly maintained
Equipment failures, such as worn brakes or parking brake
A driver may be sleep deprived or have been driving more hours than allowed by Federal Regulations.
A truck driver may have failed to follow the rules of the road.
A truck can overturn and spill contents onto the highway.
The truck driver may be under the influence of alcohol or amphetamines, or other drugs.
The cargo may have been improperly attached, leading to instability.
Not conducting safety checks
The truck may have been improperly marked for conspicuity in nighttime driving.
Drivers backing up on the road when they pass a delivery address and need to backtrack
A driver might fail to yield or pass dangerously.
Texting and driving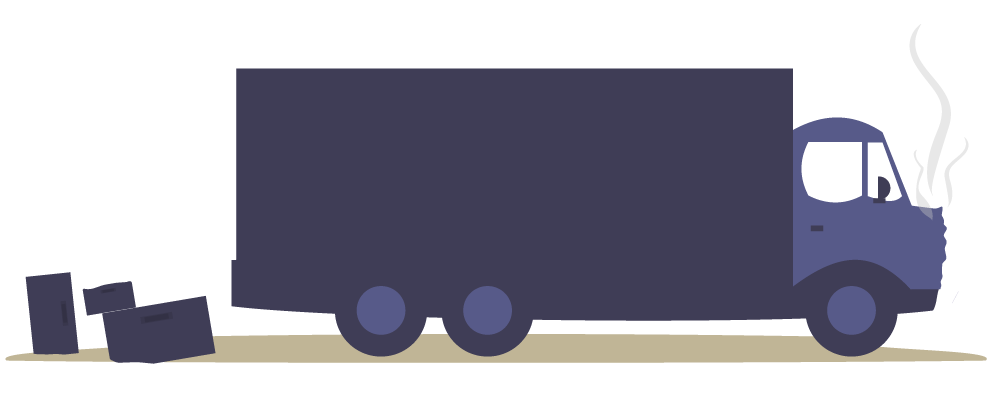 Since big rigs are so heavy, a commercial truck accident can have disastrous results.
Some of the causes of truck accidents are the same factors that cause other types of accidents. What is different about FedEx, UPS and other delivery truck accidents, is that they are often caused by being in the middle of the road to begin with, and the fact they are driving a large heavy truck that will cause much more serious injuries if it collides with a child, a pedestrian, an elderly person, a person riding a bicycle, a motorcycle rider or any one of us driving a car.
How Are Commercial Truck Accident Cases Handled Differently?

Attorneys who handle run-of-the-mill car crash cases may not always have the skills and experience to handle claims for major injuries and deaths against trucking companies such as United Parcel Service. There are many more aspects of these types of cases and different paths that have to be explored.
Major accident cases against trucking companies like UPS and FedEx almost always need much more investigation, and document review than more typical car crash cases require.It takes specialized knowledge to represent victims of big rig truck accidents, tractor trailer truck accidents, 18 wheeler truck accidents, semi truck accidents and accidents involving flatbed trucks hauling goods such as palm trees and heavy machinery in California.
Need help with a claim against a trucking company?

Pursuing a damages claim against a trucking or shipping company can be difficult and expensive. Many trucking companies and their insurance companies have plenty of money and time to spend fighting your claim. You need experienced attorneys who will work hard and spend what it takes to force the trucking companies and their insurers to take responsibility for their actions.
UPS, FedEx, and many other shipping and trucking companies are well-funded. Trucking and shipping companies can be willing to fight tooth and nail to avoid liability for their negligence. To even the playing field, victims need attorneys who will protect them in their time of need and force the trucking companies and their insurers to take responsibility for their actions.
To properly pursue a lawsuit against such a company can be expensive and difficult. An attorney may need to hire expert witnesses in the fields of trucking, trucking regulations, accident reconstruction and life care planning. Given the complexities of this area of the law, the high costs associated with bringing such cases and the enormous damages often at stake, the last thing a victim of a trucking accident should do is entrust their case to a lawyer with little or no experience with this area of litigation.
If you or a loved one was injured in a truck accident, contact a truck accident lawyer of our law firm. Call our legal team today for a free, no-obligation consultation with an experienced truck accident lawyer. The attorneys at our law firm can explain your rights to you.
Call Carrazco Law at (800) 541-3244 today for a free consultation, with no obligations, to discuss the circumstances of your accident and your legal options
.
Civil Rights

---

Personal Injury

---

Workers' Compensation

---
100+ Years of combined Civil Rights and Workers' Compensation legal experience